If you see the error message "Oh no! Seems like something went wrong", please follow the steps below:


Solution 1 - Uninstall the GameHouse Games Installer

1. Right click on the the Windows icon from the bottom-left of your screen and select Run

2. In the search box type: ​appwiz.cpl and hit enter on your keyboard. This will bring up the list of programs installed.

3. Scroll down until you find GameHouse Games, and double click on it to uninstall it

4. A pop up will appear asking you if you are sure to remove the program. Choose Yes.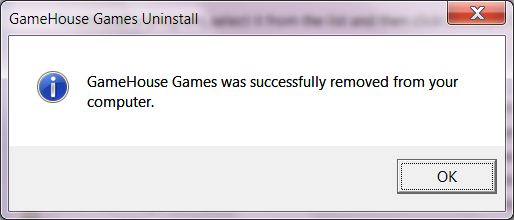 5. Go back to http://www.gamehouse.com/?ghu=false#/ , Login, & refresh the page by holding down F5 on your keyboard.

6. Click on the Play button of any game that you would like to play. Your game will start installing in the Notification section and once it's ready, a Play button will appear next to the game


Solution 2 - Set text size to 100%
Set your text size to 100% (if your text size has already been set to 100%, then set your text size to the one recommended by your computer instead)
Make a right click on your desktop


Choose Display settings


Under Scale and layout set the text size to 100% (or what is recommended)


Try opening the game again


Solution 3 - Lower screen resolution settings
Right click on your desktop and select Display Settings


Under resolution, temporarily change it to 800x600 (or to 1024x768, 1280x768)


Try the game again as it should now open


Go back to resolution and change your settings back to the recommended setting and your game will continue to work